Silhouette Curio PixScan Mat 8.5 in x 12 in CURIO-MAT-PIX12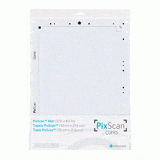 Description
The Curio Pixscan™ Cutting Mat unlocks a whole new world of project possibilities. PixScan™ technology allows you to cut precisely around any printed image or position cut lines in a specific location on your material using a camera or scanner. PixScan™ is perfect for digitizing a stamp collection or turning a hand-drawn sketch into a cut job. 
Click here to learn more about PixScan™ technology.
This mat is intended for use with the Curio's Larger 12 inch Base (sold separately from Silhouette Curio™).
Cutting Area: 12 inch width x 8.5 inch length
Adhesive Level: Light hold
Intended for Material Types: cardstock, copy paper, patterned paper, other specialty materials
For use with:
Silhouette Curio™
* Not compatible with Portrait or CAMEO models